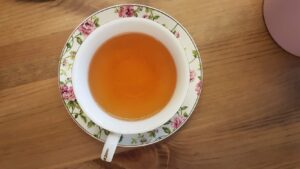 Een heerlijk kopje heilzaamheid
Tea Tub heeft een grote keuze aan: theeën, infusiekruiden & mengelingen. Neem eens een kijkje op onze webshop.
Onze losse thee & kruiden hebben veel meer voordelen dan zakjesthee. Met de juiste zetwijze zal u geen andere thee meer willen!
Ze zijn allen van biologische komaf en worden los verpakt nadat ze door u gekozen zijn. Heeft u een eigen theedoosje, dan mag u dat gerust meebrengen.
Wij vullen het voor u ter plaatse.
Ik volgde zelf een opleiding tot theesommelier in het Confusiusinstituut in Brugge (Hogeschool West-Vlaanderen)  bij 'straffe madam' Ann Vansteenkiste, pionier en weliswaar de bekendste theesommelier van België. In 2021 behaalde ik er mijn getuigschrift.
Ann Vansteenkiste hoor of zie je wel eens op vb. Radio 2 of op de regionale televisie. Ze stelt theekaarten samen voor hoogstaande restaurants als Hof van Cleve en The Jane en geeft naast haar theesommeliercursussen en haar theezaak 'Curiosithee' in Rumbeke les aan hotelschool Ter Duinen in Koksijde. Ze is een voorvechter voor eerlijke en kwalitatieve biodynamische theeteelt en spreekt hier dan ook over in het oosten op congressen voor grote namen uit de theewereld. Haar boeken 'De stille kracht van thee', 'Zelfgeplukt' en haar laatste boek 'De helende kracht van thee' zijn zeker ook via Tea Tub verkrijgbaar. Ook enkele kruidenmengelingen en mooie kwaliteitstheetjes vind je bij ons.