Er is niets energieker dan lentegeur, zomerkriebels, herfstkleuren en wintergezelligheid op de buiten! Met onze producten kan u nét dat tikkeltje extra toevoegen aan uw terras, balkon of tuin.
Windgongen Koshi & Zaphir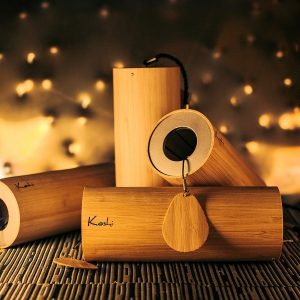 Onze windgongen van de merken Koshi en Zaphir zijn een ware streling voor het oor. Ze worden met de hand gemaakt aan de voet van de Pyreneeën. De koker bestaat uit bamboe dat behandeld werd met natuurlijke olie en de klepel is gemaakt van glas, waardoor deze windgongen een  kristalheldere en ontspannende symfonie geven.  Zij zullen elke toehoorder doen genieten in stille verwondering! Zie ook productinformatie.
Yaya's Ceramics – streekproduct
Marianne Laenen uit Schilde maakt o.a. mooie belletjes uit porselein of aardewerk met de hand en verdeelt deze zelfs wereldwijd! Het zijn echte eyecatchers zowel binnen- als buitenshuis en zijn mooi om te schenken of gewoon om zelf te houden. Het zachte gerinkel doet je wegdromen naar prairielanden, schommelstoelen en houten porches.